X fell asleep in the car on the way to the airport. I envied his calm, but it was too early by our planning. Mind you, we'd tuckered him out that morning by design, with a hectic visit to Dragon's Tale Blacklight Mini-Golf and Mirror Maze at West Edmonton Mall. And we'd been subtly adjusting his bedtimes and wakeups throughout the week, partly to forestall jet lag but also to coax his body into believing that falling asleep at 7pm was feasible.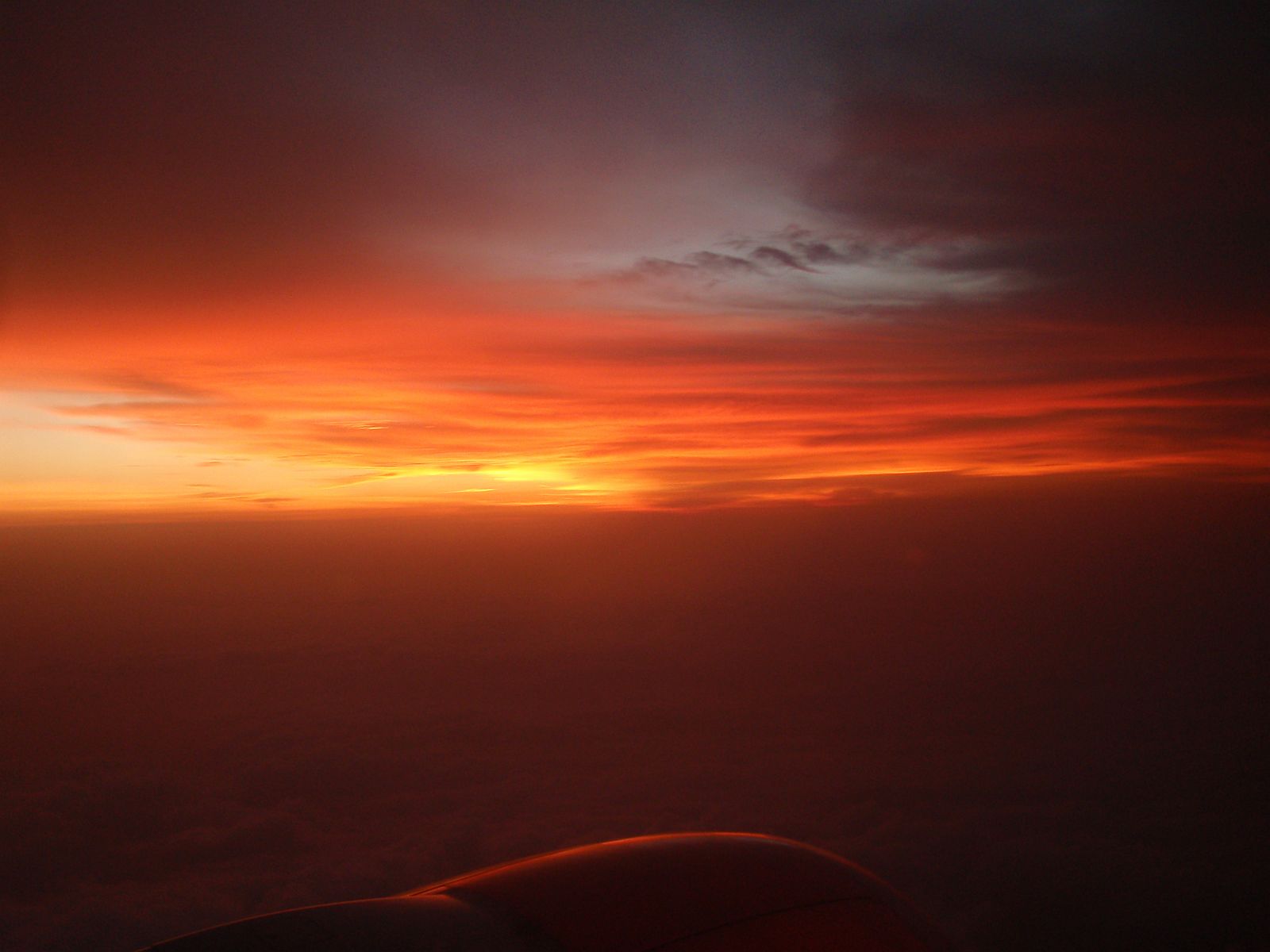 But we did our work too well. We'd hoped he'd last until the plane was in the air, but now we had to wake him as we unloaded our legion of luggage and bade goodbye to Nanabee, X's primary caretaker this summer. At least there were no tears shed by the groggy five-year-old. Better off to make hard partings seem a dream, no more substantial than a hall of mirrors. 36 hours later, when I mentioned her name in passing, the tears would come—and I'm sure they'll come again, when none of us expect it.
By the time we'd checked our bags, grabbed a bite, and boarded our plane, X was wide awake, of course. S had purchased premium seats for the extra leg room; but premium also means boarding before everyone else, which meant keeping the kid entertained while hundreds of other passengers snailed aboard. The Westjet crew adored X, and they missed my hints that he should be bound for quietude, not adventure.
But who could blame them for wanting to vicariously savour a sunset at 38,000 feet, through the eyes of a child? I was the bad guy, sticking to my guns and swaddling him up in blankets and pillows and keeping the shades down while I murmured tales of my own past travels for what seemed like hours, till I couldn't stand it. I swapped seats with S and took a sleeping pill (they are too strong for a five year old, alas). I later found out he dropped off almost instantly after we switched. Total slumber time enroute: 10 hours between myself and X.
Our terminus is Lille, France, but S arranged to fly us into London and stay overnight, catching the Chunnel train the next day. An excellent itinerary, save that it's a cruel bait, offering the merest taste of London, and under the worst conditions. I know I'll be back soon enough, but it was still bittersweet, riding the Gatwick shuttle train across the Thames, glimpsing the Tate and the Eye and the glorious Globe from afar. I tried to point them out to X, but he was by then eyeball-deep in his newest Nintendo DS game, which I'd promised him if he demonstrated good behaviour on the flight. Perhaps I should have withheld it longer, because at Euston Station he lost his cool and ended up taking a swing at me.
S had not slept at all on the flight, and her few active brain cells were geared towards guiding us through the commercialized maze of the station. It should have been my job to keep X in good spirits, but hunger and jet lag caught up with both of us. So, tears and timeouts and lectures and apologies wrung out from a stone; and then we stowed four bags in an overnight locker and had lunch.
Riddle me this, travelers: if you're in the UK for less than 24 hours and really only plan to hunker down in your hotel, how much UK money should you bring? As luck would have it, S still had two £50 notes plus change, dating back 10 years to her post-doc in Bristol. Surprise! Those £50 notes were 12 years old at the time she received them, and sometime since then, they became obsolete, somehow? Retailers advised us to trade them in at a bank, but it was Sunday, and tomorrow was a bank holiday, so instead of £100 and change, we just had…change.
No problem. Credit cards to the rescue. But the conundrum reminded us not to spend money in the first place. Apart from lunch (which felt more like supper) and supper (lunch?), we made good on our plan to buy nothing, more or less. Well…I am writing this over a pint, but a visit to a British pub felt obligatory, and well earned.
Two looong blocks' walk to brought us to our hotel, which feels like a weird fusion of Youth Hostel and Super 8. No one under 30 appears to work there, and all the accents are Eastern European. But we could have curled up in a dumpster by that point. Exhausted and sore at 1pm local time, we immediately fell into our usual habits: S napping, me texting, and X inventing card games on the carpet. I coaxed him out for a brief walk, but the only local attractions were (a) a beautiful but shut church, (b) the tempting but kid-unfriendly British Library, and (c) a cobblestone promenade featuring a long smear of horse dung. You can guess which one was the five-year-old's highlight.
Actually, he had another golden moment over supper, when he charmed the waitress into giving him one of her spare notepads. Bless him, but the boy does love a blank page. I guess that's a good thing, considering what lies in store for us.