Clink78, one of London's many youth hostels, is a converted courthouse, once stately and severe, now sporting a hip, neon vibe. The lobby's arched ceiling bears quotations about travel: "A tourist doesn't know where they've been," reads one condescendingly, "A traveler doesn't know where they're going." Another is an attempt at quoting Dickens, and ought to read "The pain of parting is nothing to the joy of meeting again." By accident or wit, however, the fourth word is painted as "partying," not "parting." It's an excellent double meaning; this is a zone where privileged young adults from all quadrants come to discover themselves in a city that parties like a rugby scrum.
The Clink still has gaol cells, complete with heavy metal doors, but these are too cramped even for hostellers to use, so they have been turned into supply closets. During our two nights in London, we bunk in some judge's former chambers – which might as well be a cell, as it is jammed with two sets of bunk beds, some lockers, and a sink. We are a party of four, so we get the room to ourselves, but normally a big part of the hostelling experience is surrendering all semblance of privacy. It can be a mind-opening experience to meet folks from vastly different cultures – until you are trying to sleep inches from their snoring mouths, at which point you'll wish you could seal your ears and nose.
Hostels are inventively no-frills. You get a bed, some breakfast, and wi-fi; everything else costs extra: shampoo, towels, and locks to protect your belongings from the total strangers who come and go from your room at all hours. At eighteen, I barely noticed these indignities; now, I weigh them in my mind against the cost of comfort and the illusion of security. I say "illusion" because aren't all hotel rooms basically other people's space? The lock on the door is a tacit guarantee, an unspoken promise that none of the dozens of staff members with duplicate keycards will come snooping around while you're gone. The more you think about the rooms as they exist outside and beyond your own immediate experience, the more a hotel's comforts crack away, revealing an uneasy skeeziness. At least hostels wear their skeez up front, and proudly.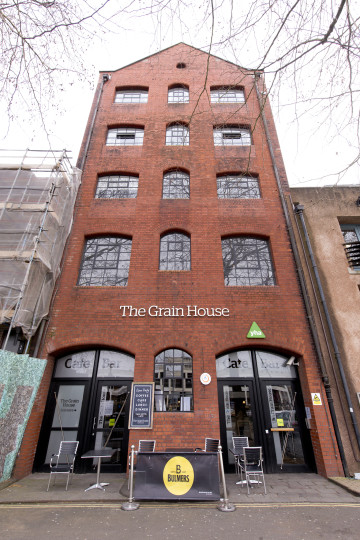 We spend two nights at the Clink before riding the rails to Bristol, where I've made reservations at the YHA Hostel. YHA is a worldwide organization, which you'd think would mean some measure of similitude – but ah, if you think that, you're thinking like a tourist. Best Western offers a cloned hotel room in thousands of cities worldwide; YHA says, "You're in Bristol, mate. This is how it's done here." As it turns out, how it's done is a former grain storage tower – tall and narrow, with 98 steps to the fifth floor and a broken lift. Never before have I more keenly missed being eighteen.
The Bristol hostel not only charges for towels, but they also take a deposit. Breakfast costs extra, but at least it's hot. A Games Room features a TV, some charging stations, and a grubby, oversized chessboard with 18 out of 32 pieces. Best of all, the showers at YHA Bristol are cubicles that open directly out to the hallways, so if you haven't brought a bathrobe, you're either (a) stacking your clothes in plain, stealable view, (b) rent/buying enough towels to get you up and down the hall in style, or (c) streaking. I suspect option (c) is pretty common, but none of these kids need to see my skinny, 42-year-old arse.
After three nights in hostels, we are ready to embrace comfort. In Salisbury, we check into Grasmere, a "country house" manor on the banks of the Avon.  It's a three-star hotel, which by European standards is neither fancy (four stars) nor fancy-schmancy (five). Yet there are towels, and private rooms, and even room service – in theory.
The fact is, Grasmere House retains the exact same charms it would have had in the 70s, back when visitors only had Fawlty Towers to compare it to. There is wi-fi, but the concierge seemed alarmed when I asked for the password. The restaurant boasts a sumptuous English menu, including lamb shank with dauphinoise potatoes and tarragon creamy sauce, confit of duck leg with parsnip puree and red wine gravy, and so forth. But the kitchen didn't open till 7pm, because I dunno, the 70s? At 5:30pm, we are hangry, so I try ordering room service using a phone older than I am. After jabbing the Reception button repeatedly, I get a woman's sleepy voice – wrong number. Down two flights to the reception desk, where the concierge, blinking, informs me that room service likewise starts at 7pm. I complain about the phone, and he informs me that he'll ring the technician. The next morning, I am onhand to see the technician arrive, in loafers and a cardigan sweater. Not only is he older then the telephone, but he may very well have invented it.
Over breakfast, while P and I poke at our ₤9.50 blood sausages, S and GB stroll along the river, and agree that there is much beauty in the overgrown gardens and the vine-choked red brick walls. But there is also beauty in a courthouse that's been overrun by hypersexed hostellers, or even a granary with a busted lift. You can put a price on comfort, but there's no such thing as a perfect hotel, and the steeper the cost, the more glaringly the flaws shine through. Check in and get out, I say – but don't forget to lock up your valuables first.