2016: one date, four syllables, numberless woes. But in my little life, I found ten reasons to look back fondly on the year. If you must, you may consider them flashes of bright, picturesque landscape as glimpsed from the window of a train careening off a cliff. Yet I am an optimist at heart, and therefore choose to see them as flickers of light presaging the end of the tunnel ahead.
1) Hamlet. I went into 2016 thinking of only one thing, but it was a hell of a thing to conceive. I've directed 13
Shakespearean productions over two decades, but nothing compares to Hamlet. I was blessed to have talented, ambitious, eager teams both onstage and off, working in a terrific venue (the Boardmore) within an institution (CBU) willing to embrace innovation. And it was innovative – thoroughly unlike anything Cape Breton has ever seen before. There are more things in heaven and earth, Horatio, than are dreamt of in our island.
2) Speaking of CBU, the Department of Languages and Letters threw me an unusual bone this year: a brand spanking new course called Arts Management for the Creative Economy. With a small cohort of emerging artists of all stripes, I adapted the course into "How to Be a Professional Artist," and learned almost as much as my students in the process. Whether or not it becomes a flagship course for the new Applied Theatre Program remains to be seen; for now, it's enough to know I'm capable of delivering a coherent lesson on "filing taxes as a freelancer."
3) And I was a student that term, too. I've been quietly taking online courses in MacEwan University's Arts and Cultural Management Programme, and this year it was Arts Advocacy. I adapted my assignments into direct action, spearheading a community interest group in Sydney to increase public awareness of storytelling as an art form. Not only did this result in the CBRM Library securing funding for a storytelling festival, but we also got the city council to declare March 20 "Cape Breton Storytelling Day." And we all lived happily ever after.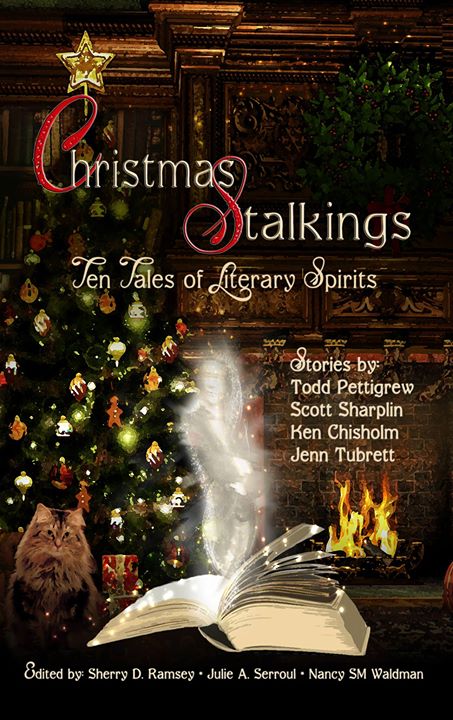 4) Some years, I've measured my success in play productions. Although 2015 was a red letter year in this respect, 2016 was much more fallow – which is perhaps appropriate, since I knew I'd be spending half of it on a sabbatical retreat. It has felt like a year that lays the groundwork for masterpieces yet to come (like a novel, maybe?). But I did manage to earn a couple of feathers for my writerly cap: a new RPG publication, and two of my stories published in an anthology of original Christmas ghost stories.
5) In May, I got to spend two weeks in Sackville, New Brunswick, participating in the Playwrights Atlantic Resource Centre's annual Playwrights Colony. It was my third time, so I got to hang out with several old friends, plus work with new luminaries such as Colleen Murphy. The play I came to workshop, Perfect Pose, has yet to receive a production, but when you're surrounded by like-minded artists immersed in their process, the product hardly matters.
6) But Sackville isn't very far from Sydney – especially not by this year's travel standards. According to www.distancecalculator.net, I've traveled over 30,000 km this year – that's two-thirds of the circumference of the Earth. Cities of note include Montreal, Kelowna, Edmonton, Osaka, London, Ispwich, Paris, Lille, Ghent, Amsterdam, and Bruges. Travel is not always easy – in fact, the act of traveling itself is often so stressful, I wonder if it justifies the trip. But then I arrive, and new worlds unfold, and I realize how blessedly big the planet is, and how serenely small I am upon its surface.
7) Yet I remain an uncomfortable tourist at the best of times. I never would have gone to someplace like Japan unless I had a specific reason – or four reasons, named Jevon, Jason, Tyler, and Tony – among my oldest and dearest friends. Truth be told, I reunited with nearly all of my various gangs and teammates this year, whether around the gaming table, at the beer bistro, or touring the Catacombs in Paris. You just never know where the best of friends will turn up.
8) Speaking of the Catacombs, this year I learned an important lesson: don't hang around underground with six million dead people if you have a lingering chest cold. At least I found a flamboyant, historical way to catch pneumonia. If I'm counting good things in 2016, I mustn't ignore the fact that I bounced back from that, thanks to the efficacy of the French medical system, and a lot of support from my immediate family. I'm likewise glad that nearly all of my family ends 2016 in good health, although the exceptions weigh upon me.
9) Along with friends and family, I have other loved ones who transcend those categories. Without naming names, I'm grateful this year that one of my relationships grew more intense, passionate, and fulfilling in ways that surprised and gratified everyone involved. But I'm just as grateful that another romantic relationship settled gracefully back into a platonic plateau, and that we get to remain good friends. I've also enjoyed the chance to flirt shamelessly with women on three continents. But most of all, I'm glad I can come home to a wife who puts up with it all – no, more than that, who understands it's not philandering, it's part of who I am.
10) Finally, I'm grateful for you, dear reader. I'm serious; this blog was originally just an outlet for Hamlet thoughts (see #1 above); once that project was over, I despaired of finding any new topics worth reading, much less a readership. It's been heartwarming, especially given how far I am geographically from anything familiar, to know I've earned a small but dedicated following. Next year, more transformations and discoveries await. I hope you'll stick around.