An open letter to Cape Breton Regional Municipality's Mayor and City Council, regarding the future of arts funding in CBRM: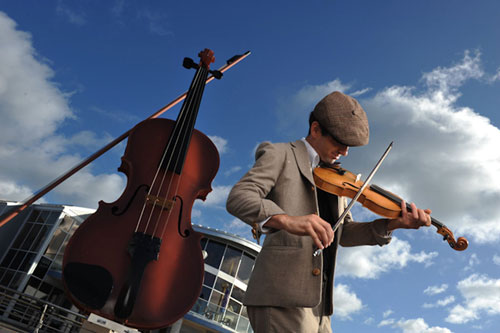 The arts are inarguably key to Cape Breton's tourist-based economy. They are also intrinsic in raising Capers' quality of living, even in times of economic recession. The arts provide links to personal and cultural heritage; they create family-focused events; and they offer youth in particular a means of expression and personal exploration which can be pursued without leaving the island. CBRM's approach to funding should reflect the contributions of the arts to the city's vibrancy and sustainability. I'm writing to persuade you to isolate and prioritize CBRM's arts funding; to support new initiatives and emerging arts groups; and to demonstrate transparency and political goodwill by adopting an "arm's length" structure in future arts support.
Currently, the CBRM has only one consistent source of arts funding: the Recreation department's "Captial, Operating, Special Event and Festivals, Community Programs and Events" grant. As its unwieldy name implies, this umbrella grant covers both long- and short-term initiatives, and is accessible by organizations both large and small. In 2016, this programme awarded funding to over 100 registered not-for-profit groups with radically diverse mandates, from producing music festivals to feeding the poor.[1]
It is a problematic model, as Mayor Clarke himself has acknowledged.[2] The widening gap between funds requested ($3.4 million in 2016) and funds allotted ($1.1 million) confirms its absolute necessity, and I am sure no city councillor who understands Cape Breton's priorities would dream of draining this funding pool. Moreover, there are several cost-effective ways to improve this grant's accessibility.
First, arts and culture deserves a separate support stream. Currently, groups with artistic mandates compete for funding against two very dissimilar groups: on the one hand, sports or community centres with non-arts mandates; and on the other, first-response social aid groups such as food banks. While the former groups may occasionally require capital funding for infrastructure, they enjoy more self-sustainability than arts organizations. They also operate on a different tier than most arts groups (for example, the $175,000 awarded to Ski Ben Eoin in 2015[3] could have supported a dozen mid-level arts initiatives). Simultaneously, the committee of councillors and appointed staff must agonize over reallocating funds that could go directly towards citizens or families living in poverty. It is unfair to impose that sort of compromise on anyone, which is why most government agencies in Canada keep arts and community funding streams separate.
Similarly, many municipal and provincial funding units take their cue from the model developed by the Canada Council for the Arts, and maintain separate grants for emerging and established artists. Large, established arts organizations such as the Savoy Theatre or Celtic Colours have financial needs which are tied to their venues, to widespread marketing, and to human resources. Smaller, newer arts groups have project-based budgets and innovative production and staffing models. Both established and emerging companies are unquestionably deserving of support; however, evaluating these diverse models within a single funding stream invites unfair comparisons.
It is not hard to establish parameters for what constitutes an "established" or "emerging" arts group. Again, the Canada Council has clear categories for most of their funding streams. Arts professionals themselves are also adept at spotting the differences—a point which brings me to my final and most urgent request: to establish an arm's-length evaluation structure, to ensure that artistic organizations are evaluated by artists, and that funding the arts in CBRM is transparent and free from political bias.
"Arm's-length" funding, in which funding streams are allocated by non-partisan experts, forms the bedrock of Canada's arts and cultural policies. Provisions for arm's-length evaluation are built into federal, provincial, and municipal funding models across Canada. When a region loses its arm's-length administration, artistic production suffers: artists lack the confidence to create passionate and personal work, because they feel pressured by, or beholden to, political agendas. Meanwhile, politicians struggle to understand artists' proposals, since the two spheres of professionals rarely speak the same language.
In 2002, despite the outcry of Nova Scotia's arts communities, the provincial government dismantled its art's-length funding model, ostensibly to increase efficiency. However, the direct-allocation model proved more cumbersome for overworked MLAs, and the quality of applications suffered. By contrast, provinces which have maintained consistent arm's-length models (eg. Ontario, Alberta, PEI) have enjoyed strong artistic growth and innovation. In 2011, the government restored arm's-length funding by establishing Arts Nova Scotia.
In times of economic struggle, citizens need art to buoy their spirits and to help them articulate visions for the future. They also need politicians who demonstrate transparency and accountability. By hiring a rotating jury of artists and arts experts to evaluate and allocate CBRM's arts applications, the City Council will demonstrate its goodwill with respect to artistic autonomy and growth. This sort of gesture is especially welcome in an election year.
The bottom line is that, in order to create authentic and invigorating art, artists must not become beholden to government policy. Nor should they be slaves to the profit margin. For Canadian artists in general, and Cape Breton artists in particular, the government must be facilitators, not engineers.[4] Separation of arts and non-arts applications, divisions between established and emerging arts funding streams, and consistent arm's-length administration would provide this facilitator model—all without overtaxing the city's limited budget. Multiple grant streams with online application forms require relatively little cost to administer, and arts experts can serve as committee members for very meagre honoraria. These improvements are within our grasp.
Sadly, none of my recommendations address the basic lack of funding available for the arts in CBRM. But, to quote W.P. Kinsella, "If you build it, they will come." More careful and unbiased arts support equals stronger and more varied art projects, which equals more enthusiastic visitors to our region. If this vision seems idealistic, remember that investing in the arts means investing in ideals—grand and beautiful visions for all Cape Bretoners to share.
Please do not hobble the arts through political bias or a flawed administrative model. If you commit now to revising CBRM's arts funding, you will win the support of all Capers who value culture and a creative economy. And honestly, can you think of any Capers who don't?
Yours,
Scott Sharplin
Freelance Artist and Instructor
Cape Breton University
[1] CBRM. "Funding and Community Support." http://www.cbrm.ns.ca/recreation-funding.html
[2] Cape Breton Post. "CBRM to Scrutinize Sustainability Grants." http://www.capebretonpost.com/News/Local/2016-05-20/article-4535765/CBRM-to-scrutinize-sustainability-grants/1
[3] GoCapeBreton.com. "CBRM's Grant Winners of 2015." https://capebreton.lokol.me/cbrms-grant-winners-of-2015—a-s16-million-free-for-all
[4] Harry Hillman Chartrand and Claire McCaughey. "The Arm's Length Principle and the Arts: An International Perspective—Past, Present, and Future." http://www.compilerpress.ca/Cultural%20Economics/Works/Arm%201%201989.htm