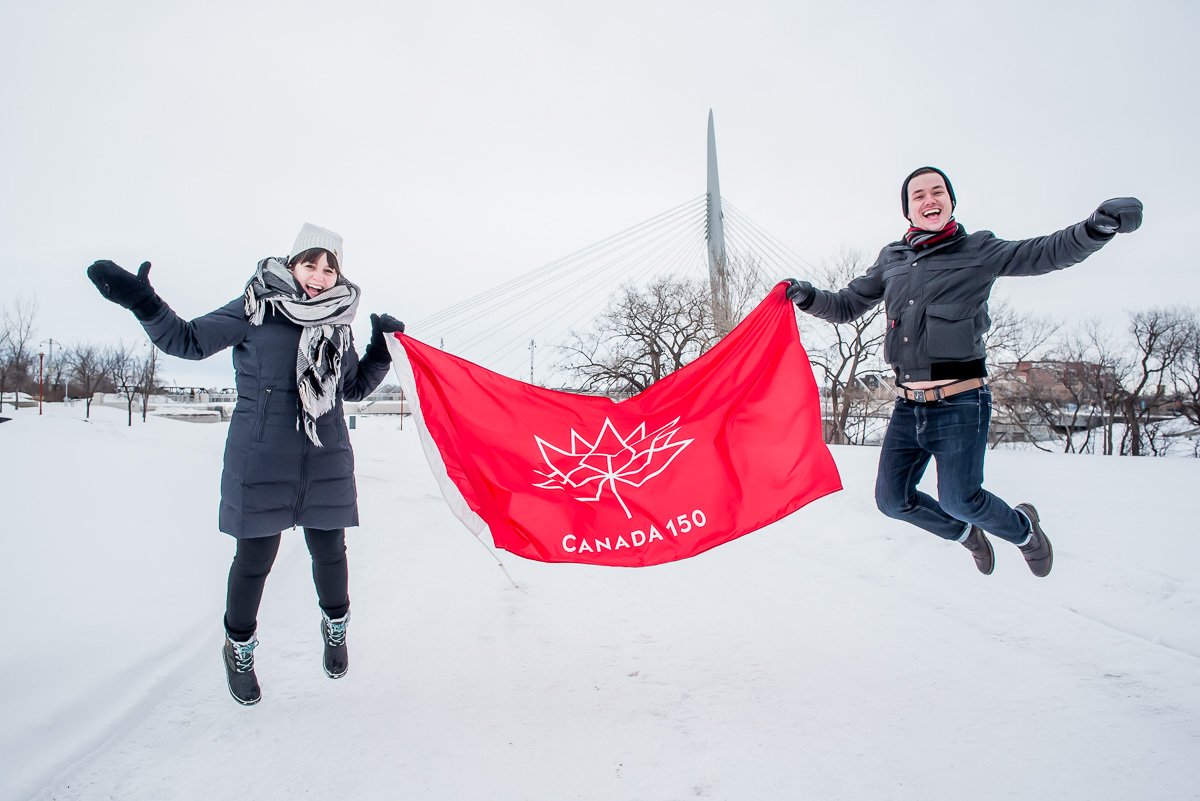 This summer, admission to all Parks Canada sites is free. It's one of many federal initiatives to celebrate the 150th anniversary of Confederation, an anniversary shortened (for flag and hashtag purposes) to "Canada 150." Never mind that Confederation is only one of numerous treaties and agreements that gradually brought our country together; never mind that over half of Canada's provinces didn't join till later (much later, in Newfoundland's case); and never mind that Indigenous history goes back tens of thousands of years, making a sesquicentennial fête from their perspective more like "Colonialism 150." Never mind all that! It's time to celebrate!!!
I actually don't disagree (for once), but in my case it's because I've been away from Canada for nearly a year, and so I really want to celebrate my nation, in all its hodge-podge, directionless, self-doubting, polite-passive-aggressive glory. I want to spend the summer immersed in its weird history, all the skirmishes and double-crosses and debacles that eventually collapsed under the weight of two exhausted empires, leaving some dust to sweep up and – why not, since we're here? – confederate. I also want to spend as much of the summer as possible out of the house, away from the domestic duties that dominated my time in France.
So I got a job in 1744.
I knew about the Fortress of Louisbourg before I moved east, but it wasn't till I visited it that I understood the immensity and scope of the endeavour. Built in the 18th century as a fortified French town, beseiged by the English (twice) and ultimately demolished in 1758, Louisbourg became a workaday fishing town until two centuries later. That's when the federal government, in a curious bid to put Cape Breton's unemployed coal miners to work, launched the largest historical reconstruction project in North America. Slowly, the Fortress of Louisbourg rose from the ashes.
While it's remarkable enough that we now have a staggeringly authentic 18th century fortress on our island, the historical aspect wasn't what drew me into Louisbourg's orbit. After all, I just spent eight months in Europe, where reconstructions are not needed – everything is 18th century, at least. The thing I've always loved about Louisbourg is how it animates its history with costumed staff: noblemen in wigs and coattails, fishermen in ragged breeches, and soldiers toting swords and muskets. It can be silly, but it can also be quite magical to visitors who are accustomed to museum exhibits that stay static and lifeless.
A couple of years after moving to Cape Breton, I directed a dinner theatre at the Fortress; a year later, I wrote one for them (the first and last full-blown musical I'll ever write). But I balked at actually applying to work as a Historical Presenter myself, even though I figured I'd be pretty good at it. For one thing, I was too covetous of my summers, which I preferred to spend either travelling, doing theatre, playing D&D, or all of the above. For another thing, I knew the job demanded a lot physically, and it has been a long time since I've had gainful employment that involved standing up for eight hours a day. And finally, there was the French. Most of the positions require bilingual fluency.
Then, as our time in France was winding down, I looked ahead to the summer of 2017 and I thought: what the hey? I'd spent the past twelve months travelling, so I sure wouldn't mind a summer close to home. I had no theatre projects lined up, and my grownup D&D buddies wouldn't concede to play every night of the week (would they…?) (no, they would not). Plus I was in pretty decent shape from walking everywhere in Lille, and my French was as good as it's ever likely to get. I impulsively checked the Government of Canada jobs site. There it was: a single GT-01 Historical Presenter post; full-time, June to August; deadline in a few days.
My interview was scheduled for the day after our return to Canada. I remember memorizing a speech while I was standing on a balcony in Kathmandu, but I was so jet lagged after getting home that I don't remember anything about the interview. Apparently I did well, because I got offered the job – but it wasn't going to be quite as I'd envisioned it. For one thing, they wanted me as a Parks Canada tour guide, not an animator – I wouldn't even get to dress up! And some of the tours I'd be giving would be in French. I'd anticipated a level of French conversation, of course, but 45-60 minute tours? Oh la la…
Nevertheless, I stuck to my muskets and took the job. Work didn't start for another six weeks, but they had plenty of bureaucratic tasks to keep me busy in the meantime: records checks, contracts, deposit forms, and a follow-up interview to evaluate my proficiency in French. Yet in true bureaucratic fashion, all these tasks were assigned in the wrong order. For instance, I should have filled out direct deposit forms immediately, to allow for the six-week processing time (!); instead, I only received them two weeks before my start date, which means (according to their eldritch pay system) I won't get paid till at least halfway through my contract.
And the French test didn't happen until about 10 days before I was due to start, which meant I didn't get the results until a week later. Which meant an awkward phone conversation with my boss when it turned out my fluency in French warranted a "B," but the tour guide position required a "C." ("C" is higher than "B," because…bureaucracy, I guess?). Suddenly, days before my big break at Louisbourg, my job was in jeopardy, because I (who just spent eight months living in France) couldn't speak enough French.
I think a lot of things are blessings in disguise. "Canada 150" is a controversial celebration because it implicitly erases thousands of years of Indigenous history. But if "Canada 150" weren't a thing, then the national discussion about colonialism would not be nearly as visible. And my "B" rating turned out to be a blessing, because it bounced me over to the Fortress's military unit. Instead of reciting names and dates in a green blazer, I'll be spending my summer teasing anglophone tourists and practicing musket drills in a blue-and-white greatcoat and tricorne hat. That's more in line with what I pictured all along. And well worth celebrating.