Shortly after S and I got married, I tried liking opera for an afternoon. I'd learned that CBC Radio 2 had a Sunday afternoon opera broadcast, so I tuned in. After ten minutes, S came into my office and wrinkled her chin. "What the hell is that?" She demanded. "You don't like opera?" I asked, a newborn husband cutting his teeth upon his spouse's tastes. S looked at me like I was from Alpha Centauri. "Of course I don't," she replied.
And so the arias fell silent. I certainly didn't miss them. There had been a time when musical theatre meant a lot to me, but I'd already left Les Miz way behind. And really, if repeated viewings of Phantom of the Opera weren't enough to get me interested in actual opera, then the CBC didn't stand a chance.
Maybe the problem was that I hadn't seen opera. Years later, I had the chance when I stumbled into comps for an Edmonton Opera double-bill of two short operas directed by Robert Lepage. One was Bluebeard's Castle, the other was…something German. The productions were shadowy and lush and thoroughly unfathomable. I decided that modern opera was like modern art – either you do a load of research first, to have a chance at understanding and appreciating it, or else you accept your ignorance and view it from its impenetrable outer edges.
With such a spotty track record, I'm not sure what moved me to buy tickets to The Magic Flute at Paris Opera. I'd put Spotify on a classical playlist, and P responded strongly to the Overture, and one thing led to another. P has recently shown great interest in music and song as a subject of study, so it felt like a justifiable field trip. I only bought two tickets, because I knew S wouldn't want to come – but I figured I'd drag her along to Paris anyway, not realizing that she'd still have to put up with both P and myself singing the Queen of the Night's aria all the way there and back.
Complications arose. The curtain went up at 7:30pm – close to P's habitual bedtime – and dropped after 10:30pm. Finding cheap digs near the Opera Bastille proved difficult. In the end, between tickets, travel, accommodations, and meals, the field trip turned into one of the most expensive excursions of our entire sabbatical year. And I had no guarantee that P would enjoy herself – or that I would, for that matter.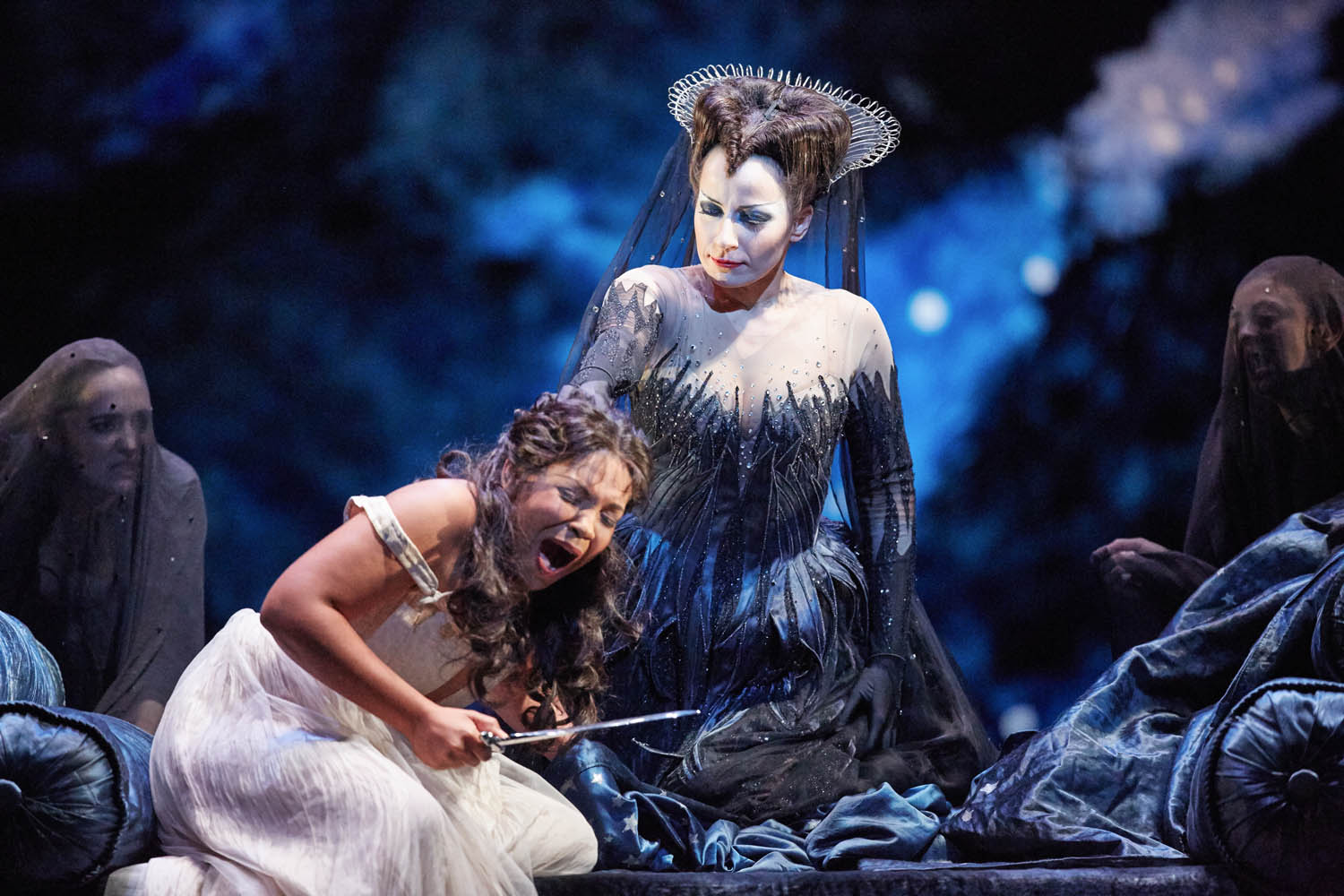 We prepared in advance, studying the opera's narrative. Part fairy tale, part Jungian rite of passage, part patriarchal pipe dream, The Magic Flute has plenty of familiar elements – a hero-prince, a captive princess, a wicked witch – but never in a familiar arrangement. I couldn't provide answers to most of P's questions: "Is Sarastro a good guy or a bad guy?" "Why does Tamino have to do three trials?" "If his first trial is the Trial of Silence, why does he sing all the way through it?" I began to realize that my take on opera was comparable to P's take on any show aimed at grownups – lots of weird behavioral subtext and random histrionics. This experience did not require that I elevate her to my level of understanding; I was descending to hers.
The day arrived. We squeezed in a disastrous side-trip to the Museum of Magic, a cut-rate attraction jammed into a dank basement and not updated since 1950 or so. The tickets entitled us to a free magic show, but P was having none of the crusty old magician's shtick, and tried a disappearing act of her own. I told her that her misbehaviour would be utterly untenable at The Magic Flute, and she swore up and down that she could follow the rules – sit still, stay quiet. I had my doubts. We ate supper, got changed, and rode the Metro to the ultramodern Opera Bastille. I discovered that the two seats I booked online were actually on opposite sides of a row, but a considerate usher and a broken chair conspired to get us adjacent just in time for the show to begin.
I faced instant disappointment upon seeing a modern costume design that consisted mostly of white suits and black dresses. Papageno, the clownish bird-catcher, was dressed like a backpacking tourist. The set design was likewise bland at first, but very gradually some spectacle crept in, as screens with foresty projections rose into the fly gallery, revealing increasing depths to the space. By the end of Act Two, parts of the stage were afire, and a curtain of fake rain was falling across the apron. There was not as much to gawk at as I'd hoped, but what there was was gawk-worthy.
Yet if opera is mostly about the sounds, not the sights, then I found only two moments that really moved me. The first is the aforementioned Queen of the Night number, where the ambiguously motivated (but untrustworthy because female) Queen orders her daughter to assassinate a mystical priest. The aria demands incredible vocal control, including the infamous F6, one of the highest notes any human voice can sing. Watching it performed live, I realized that opera is as much sporting event as it is art – a chance to marvel at what our fellow homo sapiens are capable of achieving with proper training and due talent.
Later, Papageno and Papagena woo one another melodically. Their duet follows a lot of irksome misogyny – almost enough to scuttle the whole show – but once they throw themselves into the bold, birdlike mating song, all the politics melt away, replaced by an enthusiasm and joy as old as the act of reproduction. Without meaning to, I found myself swept along, and I remembered how powerfully music can access our instincts and urges.
It would have been awkward explaining all this to P, but fortunately I didn't have to; by then, she was fast asleep against my bony shoulder, snoring innocuously but starting awake each time the auditorium applauded. I'm sure she wasn't the first person to nod off at the opera, and it was much better than other potential disruptions. I tried not to think about the ticket price as I carried her out to the taxi. But it didn't matter if she missed most of Act Two; I know her keen mind will still latch onto the experience for years to come.
I remain an opera skeptic, though I could see myself getting on board if P grows up to be the world's first female baritone. But the next opera will have to be her treat; The Magic Flute has tapped me out.