The Mississippi Delta was shining like a national guitar
I am following the river down the highway through the cradle of the Civil War
My Dad owned Paul Simon's Graceland on vinyl. The album came out in August 1986, and since my parents were in the process of divorcing that year, we didn't have a lot of time to listen to it together. Still, I can remember my Dad and I sharing a laugh over some of Simon's wryer observations and quips, some of which now seem so thin they'd vanish altogether if they weren't set to music:
Well, breakdowns come and breakdowns go…

Well, that's one way to lose those walking blues…

Well I know what I know, I'll sing what I said…
I did not understand the lyrics at 12 years old. Now I acknowledge there's plenty in there that's designed to defy explanation. But at least now I can better grasp the context that made Graceland such an utterly remarkable album. I had never heard of Simon & Garfunkel, had never seen The Graduate. And I also didn't recognize the album's genre-bending African-inspired sound.
These are the roots of rhythm and the roots of rhythm remain
That line sums up the album's ambitious vision. In 1986, I was more acquainted with a similar phrase from Huey Lewis and the News's not-all-that-groundbreaking album Sports. "The heart of rock 'n' roll is still beating," sang Huey, and I accepted this truism because, well, every other hit song in the early 80s mentioned rock 'n' roll as well. But Paul was reaching much, much further back; he knew that rock 'n' roll was begat of jazz, begat of blues, begat of gospel, begat of tribal music from the cradle of civilization. When he sings about "the roots of rhythm," he means it; there is something almost primeval in the undercurrents of "Homeless" or "Under African Skies."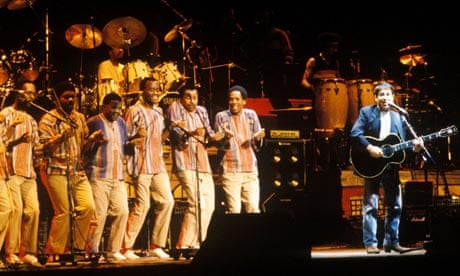 And lest you think it's just another example of a white musician exploiting black sounds: Graceland was a cross-cultural collaboration so profound, it bordered on revolutionary. Simon insisted on recording in Johannesburg at the height of Apartheid, and when he entered the studio to jam with numerous Black performers, including the Zulu choir Ladysmith Black Mambazo, he had not written a single lyric or note in advance. Watch this live performance of "Diamonds on the Soles of Her Shoes" and you'll see the choir unfold into a performance of utter joy and ownership and – yes, soul, if you'll pardon the pun.
Simon likes puns and wordplay, too. My favourite song on the album, "You Can Call Me Al," winds and unwinds around verbal contrasts and opposites and unexpected inversions of meaning:
Why am I soft in the middle? The rest of my life is so hard…

Why am I short of attention? … All my nights are so long…

Maybe it's the Third World…Maybe it's his first time around…
Even the album's title is a pun, though as a kid I didn't get it, since I'd also never heard of Elvis. For Simon, "Graceland" is more than just a tourist destination, it's the site of a modern pilgrimage: "I believe we all will be received in Graceland."
Somehow, that quaint modernity, juxtaposed with ancient rhythms, makes for a timeless album. There shouldn't be anything relevatory in lines like "Don't I know you from the cinematographer's party?" or "Well this'll take off a year of my life / And then there's all that weight to be lost." They're ironic, and borderline absurd, yet underneath the mundanity of modern (white, male, middle-aged, North American) life, there is secret magic – diamonds on the soles of shoes. "These are the days of miracle and wonder / This is a long-distance call." Segregated, both of those statements are hollow and banal. United, they make 20th century poetry of the highest order: "The apparition of these faces in the crowd / Petals on a wet, black bough."
Backtracking to the eponymous song: in "Graceland," the speaker (Simon likes to form personae, like my other favourite songwriter Michael Stipe) is taking his nine-year-old son on a road trip to Graceland in the wake of divorce; he's not over his ex-wife yet ("Losing love is like a window in your heart"), but he hopes that some redemptive and healing magic awaits him at the former home of his musical idol.
Perhaps it's because I was a 12-year-old child of divorce that I now sometimes picture the scene from the perspective of the narrator's son, slumped in the passenger seat, forced to listen to "Heartbreak Hotel" for the millionth time. I wish the son had the insight to turn and look at his Dad – to see inside the window in his heart – so that the duo has a chance to find grace in each other, not in some long-dead role model. The song doesn't directly address this possibility, but some of the imagery allows for it: "My traveling companions are ghosts and empty sockets" sounds fatalistic at first, but what if those sockets aren't the sockets of a skull, but rather electrical outlets, waiting for a new connection to illuminate their lives?
I recently put "Graceland" back at the top of my playlist because I knew it had been inspired by Simon's relationship with Carrie Fisher, who died in December. But quickly I realized that, for completely unrelated reasons, it was the anthem I required for the rest of my time in France. Circumstances have thrust me and my kid closer together than ever, and I have adjusted by planning daytrips, weekends, and longer sorties – pilgrimages upon which a father and daughter can hopefully find each other, if they both have faith and courage.
Our first odyssey starts tomorrow, and will take us to Caverne Pont D'Arc in the south of France to peer at paintings with a 35,000-year provenance. The roots of creativity and art; a prehistoric Graceland. A holy site, perhaps, for a father who can't stop dreaming and a child who has rechristened herself Pastelle.
He looks around, around
He sees angels in the architecture
Spinning in infinity
He says "amen" and "hallelujah"
Maple Danish/Messymorphosis will return in February.