One of my value/goals on the radical sabbatical involves Personal Fulfilment, which in my case means satiety – figuring out what I need in order to feel happy, and how much is enough. I have an addictive personality, and while I'm lucky it hasn't led to any seriously debilitating habits, I have still found my health and happiness compromised by wanting too much of a good thing. I quit smoking weed last year (just as it was being legalized in Canada, natch) because I'd forgotten how to balance consumption with contentment. Here in France, I'm reassessing my personal relationship to alcohol and chocolate – two things the French seem to have no trouble enjoying.
And then there's coffee.
Have I mentioned that coffee and I have a thing? I have? Well, I'm sure I was wired when I wrote that. Honest, baby, it didn't mean anything. We can work it out…
Our apartment in Lille came equipped with a standard, North American filtered coffeemaker, so apart from the weird cream factor, it would be perfectly feasible for me to continue my normal, 2-to-3-cups-a-day routine while on sabbatical. But I felt as if I would be missing out on the range of exotic opportunities if I didn't venture forth to see what European cafés had to offer. Besides, my addiction is tied up with my vocation; I wanted to write in French coffee shops, thinking brilliant French thoughts while drinking copious amounts of French coffee.
You can see how this craving may be at odds with my desire for satiety. The more productive I am as a writer, the more time I'll have to spend in coffee shops, and the more caffeine I'll imbibe. My only hope was that French coffee might turn out to be so punitively expensive that I'd only be able to afford one cup per day.
A different solution soon became apparent. French coffee is not expensive, but it is espresso. A "noisette" (espresso with milk) costs about one and a half euros, which means I could probably afford ten a day; however, I'm so sensitive to caffeine that more than two per day would make me burst a lobe. The same goes for lattes, cappuccinos, and the mysteriously anglicized "flat white," a drink involving something called microfoam. To me, these are merely variations of espresso which cost more and get cold before you can finish drinking them.
I decided what I needed was café filtre, but I still didn't want to confine myself to my apartment. I spent a few weeks exploring the café options around Vieux-Lille, but the forays left me confused; coffee shop culture did not seem to be as pervasive here as the movies led me to believe. Part of my problem was the bewildering terminology – not of the coffees, but of the outlets that sold them. Hardly any establishments bore the word "café" on their signs, and the other options had byzantine yet unwritten rules:
A bistrot might serve you coffee (or wine) in the morning, but don't linger after lunch, as they tend to close up around 2pm.
A brasserie has longer opening hours, but the waitstaff will turn you away if they suspect you're not going to order food (or wine).
A restaurant is almost certainly not going to be open when one wants to drink coffee, but if you do find one to accommodate you, they have lots of space for solitary writers to squat, and usually offer the cheapest coffee (and wine).
An estaminet is something local to the Nord-Pas-de-Calais region of France. I can't figure out what they're for because they are never open. But somehow, I bet they serve wine.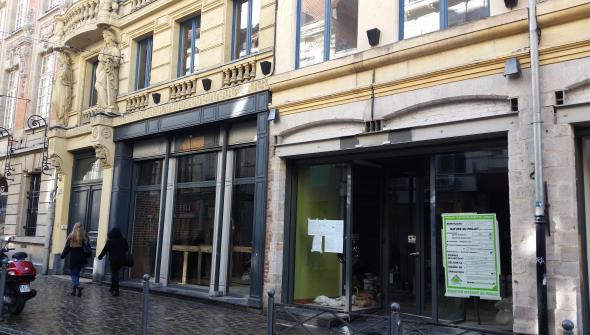 I'm not saying coffee shop culture is nonexistent here. A few pâtisseries, or bakeries, serve coffee along with their croissants. And there is a Starbucks a few blocks from my house, tucked into a gorgeous sandstone building with caryatid statues above the doorway. Consistent with their business plan of rendering all cultural traditions tacky and embarrassing, they've added colour-changing LEDs beneath the caryatids, so they look like they're in a nightclub.
I do not Starbucks, Sam I Am. I was willing to try the British equivalent, Notting Hill Coffee, which has infected Lille far more successfully than Starbucks has. Turns out that, even though the franchise is probably not named after the bland 1999 romantic comedy with Julia Roberts and Hugh Grant…but its coffee is basically its brown, liquid equivalent.
Finally, I found a couple of well-hidden gems that specialized in rare coffee options, including café filtre. One, the uninspiringly-named Coffeemakers, is a 30 minute walk from home, but it's worth the journey not only for the coffee, but also for its cushioned seats and Yellow Submarine-inspired décor. The other is closer to home but closed on Mondays and Tuesdays. When open, Tamper! is my default choice, and S's too, although we've both injured ourselves on the stealth stone step in the middle of the shop. Apart from that booby trap, Tamper! is a great café, run by millennials who play Bowie on vinyl while they prepare organic salads and crumbly pies.
In truth, both Tamper! and Coffeemakers would not be in the least out of place in a North American city, and the coffee I'm consuming is of similar price, quality, and style. And so my quest for satiety comes full circle; I have resisted enculturation by rejecting espresso (and wine), so now I have to resolve the problem on the same terms as before: how much coffee is too much?
As with most core values, the question must be answered anew each day. Right now, I am mostly able to get by on two coffees a day: one to get me started in the morning, either a noisette from the pâtisserie downstairs, or else a homebrew cup; then a second in the afternoon, slowly savoured as I freewrite in Coffeemakers or Tamper! It feels like a good balance, with the only potential disruption coming from an unexpected source: right across from Tamper!, a hot-chocolate specialty shop called Moment Privilgé sells hotchocspoons in steamed milk for 4.5 euros. They are the brown, liquid equivalent of Gone With the Wind, and they're designed to throw anyone's sense of satiety out the window.